Earlier this year, FEDSched debuted its redesigned website. The updated site has countless new features including an intuitive design and interactive resources for prospective and existing GSA contractors. As a continuation of our InfoSeries that highlights features and information on our website, this third part will review how you can navigate FEDSched's website to find all there is to learn about Managing Your GSA Contract including:
GSA Post-Award Checklist – Vital details for after you've been awarded
GSA Schedule Management Services – Keeping your contract current
Maintenance & Management Resources – Beneficial resources and GSA updates
---
GSA Post-Award Checklist
The GSA Post-Award Checklist, found on our new website under the Get a GSA Schedule section, is vital to all contract holders – new and experienced. Once awarded, as a potential twenty-year contract, the success of your GSA Schedule ultimately depends on your ability to maintain overall contract compliance. In order to ensure your GSA Schedule Contract is consistently current and has the most up to date information, you'd benefit by referencing several sections on our GSA Contract Management Checklist.
➥View the GSA Post-Award Checklist Now
With Must Have Resources, Annual Registrations and Reporting Requirements, just to name a few, this checklist covers it all. Each section is interactive and has additional information in a drop down box to elaborate further. Many of which include links directing you to the exact page(s) you need to complete the task.
---
Manage Your GSA Contract
In highlighting some more of the updated features, we revisit the expanded navigation menu that allows users to easily explore all topics under each header at a glance.  By hovering over Services the selection drops down to include key sections regarding GSA Contract management & maintenance. Choosing Manage Your GSA Contract  lets you explore all the options available.
Beginning with a brief overview of the subject at hand, all new landing pages load more content as users scroll down.  This particular page has quick select options, enabling faster navigation to jump to even more specific subject matter. FEDSched offers a complete range of GSA Contract management services to save you time and position your GSA Contract for growth within the federal space. For example, you can learn more about how FEDSched helps with GSA Contract Modifications or Extensions, get GSA Advantage! assistance and even seek Contractor Assessment Support if need be from this page.
➥Visit Manage Your GSA Contract Now
After making a selection, like GSA Contract Modifications for instance, you land on a page with further information. In this specific section, the page depicts key points of the GSA Contract Modification process and reviews the different modification types.
➥Visit GSA Contract Modifications Now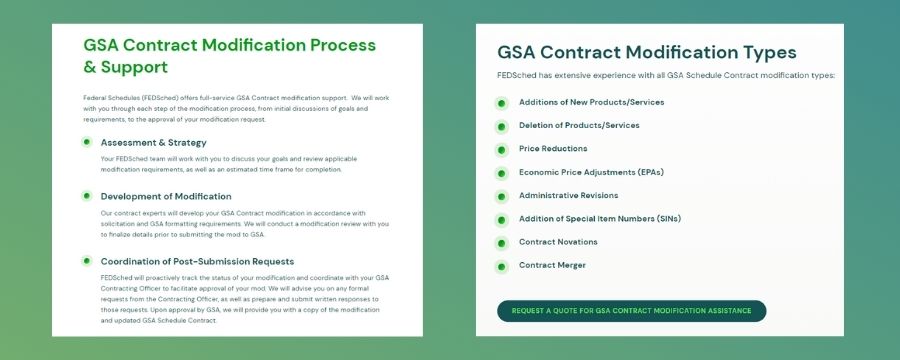 ---
Resources
Our new Resources section allows you to choose by Key Resources, Insights, Reports, Events or Webinars. This new section better organizes all our website has to offer, whether you're looking for our latest blog, seeking an agency spending report, or trying to find upcoming webinars and industry events, it's all included here.
If you are seeking resources as an existing GSA Contract holder, you'd benefit from the following pages:
➥View All GSA Contract Holder Related Resources
---
At FEDSched, we understand the value of effectively managing your GSA Schedule Contract. FEDSched's ongoing GSA Contract management support provides your organization with a team of GSA Contract experts, while our website serves as a supplementary resource to help you keep up with the latest changes at GSA. Contact us to discuss your GSA Contract needs and subscribe to our newsletter and alerts.